Description
with Brooke Randolph, LMHC, Certified Brainspotting Consultant
Friday, June 18, 2021
Time 11:00 AM to 1:45 PM
Those impacted by adoption – children or adults, parents or adoptees – face variables uncommon to the general population. Treatment professionals can unintentionally increase the intensity of the situation if unfamiliar with the factors inherent to adoption and the situations that precipitate a need for a child to be adopted. Too often I have heard from adoptive parents 'we went to a therapist and they made it worse' or adoptees saying 'I cannot find a therapist that gets it.' Research and therapist self-report demonstrate how poorly we are prepared to address the issues related to adoption.
In design and practice, Brainspotting is healing and affirming for adoptees. The flexibility, dual attunement frame, option for silent processing, and principles of uncertainty and staying in the tail of the comet make Brainspotting the preferred power therapy for working with both adoptees and birth parents.
In this presentation, we will discuss what you need to know about adoption, how to approach working with adoptees and adoptive families, the emotional issues inherent to adoption, best practices when working with adoption, and identifying when to make a referral and to whom. We will also discuss a variety of ways that you can increase your knowledge base and ethically work with adoptees and adoptive families, including trainings, conferences, and books. Most importantly we will discuss a variety of factors to consider when setting the Brainspotting frame with adoption clients and how to choose between the Brainspotting techniques.
This workshop will cover:
Early parental separation creates developmental trauma
Therapists are not taught about adoption
Therapists are likely already working with adoption due to higher prevalence in other populations
Brainspotting approach is essential for the adoption population
Adoption competency information & multidimensional frame setting
Participants will be able to:
List foundational principles of Brainspotting that apply to the adoption population
Identify special populations where adoptees are over-represented
List the goals of Adoption Therapy
Cost:  FREE for MBI Members; $35 for non-members
Click here to become a member.
Prior to the event, a Zoom link for the event will be emailed to you.
CEUs available through RCassidy at an additional cost. Please indicate interest when you register below. Link to R Cassidy CEUs coming soon. Watch your email for updates! Certificates will be available following course completion at www.ceuregistration.com.
Designed for everyone, and especially for the following professionals: Psychologists, Psychoanalysts, Social Workers, Counselors, Therapists, Addiction Counselors, OTs, PTs, Massage Therapists, Cranial Sacral Therapists, and Body/Energy Workers. Please see below for CE professional details.
Cancellation Policy: No refund on cancellations made 24 hours prior to the live webinar. Recorded webinar will be available for two weeks after live event. No refunds will be made if you miss recording window of availability. For more information, email Midwest Brainspotting Institute at MidwestBrainspottingInstitute@gmail.com.
There is no conflict of interest or commercial support for this program.
Presenter: Brooke Randolph, LMHC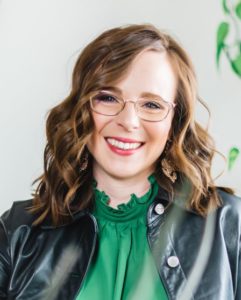 Brooke Randolph, LMHC, is Founder and Director of Counseling at The Green House, in Indianapolis, Indiana. Her specialties are Adoption Therapy (developmental trauma), Brainspotting, and relationships. She is a Certified Brainspotting Consultant & Speciality Trainer, Coordinator of Brainspotting Indy, and Member of the Midwest Brainspotting Institute. Brooke is also a Certified Imago Relationship Therapist.
She is the author of The Bully Book: A Workbook for Kids Coping with Bullies (2016), The Loss Book: A Workbook for Kids Coping with Loss (2017), The Choice Book: A Workbook for Kids Making Choices (2019), a contributing author to Adoption Therapy: Perspectives from Clients and Clinicians on Processing and Healing Post-Adoption Issues (2014), and the organizing editor of It's Not About You: Understanding Adoptee Search, Reunion, & Open Adoption (2017). She has also authored adoption education materials for parents and therapists.
She was a founding member of MLJ Adoptions, Inc., where she served as the VP of Social Services for seven years. She was a Young Professionals Advisory Board member for The Villages, which is Indiana's largest not-for-profit child and family services agency, serving over 1,400 children and their families each day. She was also the Interim Vice President of PR, Outreach, and Communication for KidsFirst Adoption Services and the mental health expert contributor at a national diet and fitness column.
Brooke adopted an older child internationally as a single woman through a pilot program, which she considers one of the most difficult and most rewarding things she has ever done. She has presented at numerous conferences and workshops throughout North America on a variety of topics. Brooke is passionate about promoting excellence in therapy and helping to encourage, equip, and empower individuals and couples toward more whole-hearted living and conscious relationships.