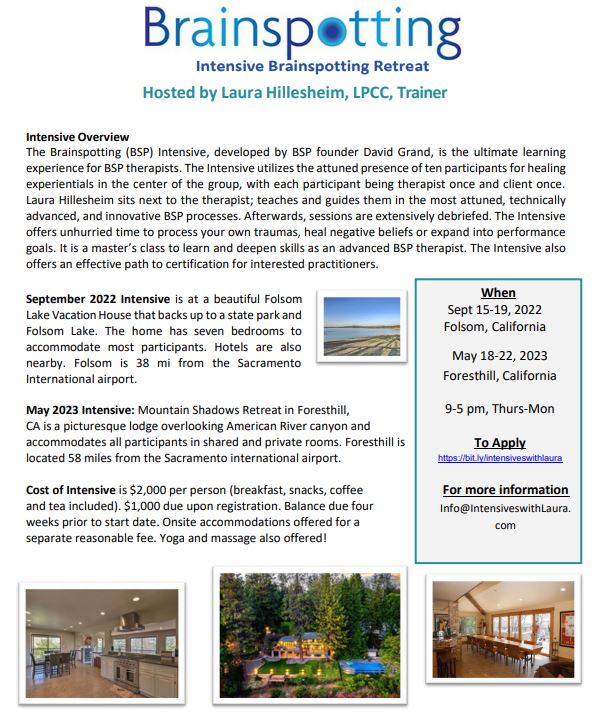 Intensive Brainspotting Retreat Hosted by Laura Hillesheim, LPCC, Trainer
Intensive Overview
The Brainspotting (BSP) Intensive, developed by BSP founder David Grand, is the ultimate learning experience for BSP therapists. The Intensive utilizes the attuned presence of ten participants for healing experientials in the center of the group, with each participant being therapist once and client once.
Laura Hillesheim sits next to the therapist; teaches and guides them in the most attuned, technically advanced, and innovative BSP processes. Afterwards, sessions are extensively debriefed. The Intensive offers unhurried time to process your own traumas, heal negative beliefs or expand into performance goals. It is a master's class to learn and deepen skills as an advanced BSP therapist. The Intensive also offers an effective path to certification for interested practitioners.
Yoga and Massage available.
September 2022 Intensive is at a beautiful
Folsom Lake Vacation House that backs up to a
state park and Folsom Lake. The large venue
has seven private bedrooms to accommodate
interested participants. Folsom is 38 mi from
the Sacramento International airport.
May 2023 Intensive is at Mountain Shadows
Retreat in Foresthill, CA. This picturesque lodge
overlooks a canyon of streams and trails and
accommodates all participants in private rooms.
Foresthill is located 58 miles from the Sacramento
international airport.
Cost of Intensive is $2,000 per person (breakfast,
snacks, coffee and tea included). $1,000 due upon
registration. Balance due four weeks prior to start
date. Onsite accommodations offered for a
separate reasonable fee.
When
Sept 15-19, 2022
Folsom, California